Hi all!
This day was the second one, attending NosuchCon conference….
In the morning we have seen a good analysis on a new kind of BIOS rootkit, able to resist to even a BIOS reflashing. Its name is "The Flea". Entire work was presented by John Butterworth, Corey Kallenberg, Xeno Kovah (guys from Mitre). I think that it could be a very strong and interesting project…
We have seen furthermore a presentation of ARM exploitations techinques, a board able to debug ARM boot loader, system application: and obviously simplify ARM exploit development. This showing was very funny: the speaker (S.A. Ridley) has even distributed a sort of black hat condoms.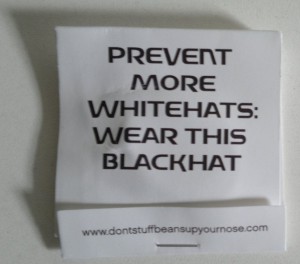 Very funny for a security talk…. Don't you think so?
In the afternoon there were showed others talking…. But in my opinion these were not of much interest… except for "Advanced Heap Manipulation in Windows 8" project, presented by Zhenhua(Eric) Liu, from Fortinet…
Now I'm really tired.
For now that's all!